Metal case packaged battery packs
Metal Case battery packs (OEM)
Lithium ion battery packs with metal case packaged are treated as high safety assurance. Metal case will act as a protector to resist outside force damage, it can also be treated as an isolation method if any inside or outside condition came into serious problems. The metal case can be sealed in an acceptable waterproof and dustproof level, the case can be installed with handles, sockets, connectors and necessary components etc. For inside structure, the metal case can be installed with extra metal frames or sheets with threaded holes, it is good for BMS installation and block type modules or cassette sheets modules assembly, battery modules will be well built inside metal case to obtain a high reliable battery pack.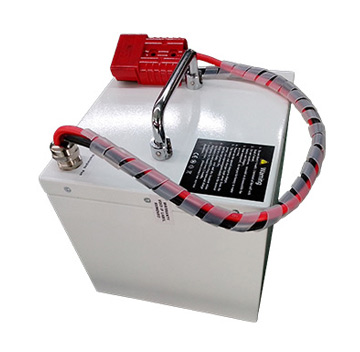 For the battery packs made with block type modules, modules will have threaded holes on the top of metal sheet bars, so that can be firmly configured in series or in parallel by the bus-bars. Also the screwed holes are convenient for the installation of volt detecting wires and temperature sensors. Among blocks each other and metal cases here are necessary foams for the buffering, after blocks assembled the plastic lids can be installed on top for isolation and protection, which will not disturb the wires and bus-bars. Those blocks will be well located and fixed in the metal case with BMS built in and necessary components installed. By this method we could deliver high reliable metal case packaged battery packs.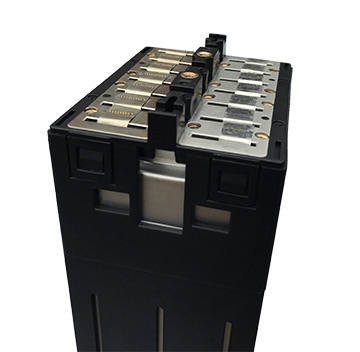 If requested by customer and product volume is acceptable, we can also make plastic cases by anti-frame plastic materials. For the sample making we will offer 3D files for customer checking and use 3D printing to make sample cases, this requires some extra costs but is convenient for both sides.
For cell's quality control and cell's test & pick up etc for battery pack, please visit Technology page.
For block type module, cassette sheet module, shrink film package module introduction, please visit Battery modules page.
Shrink film packaged battery module (or pack) can also be put into metal case as a package way.
Here are some examples of customized battery packs listed as below, pack size can be easily changed according to customer requirements. Packs made with different cells will have different sizes and weights, please contact our engineers for the proposal to best suit your projects.
| Volt | Capacity | Chemistry | Discharge Current | Dimension (mm) | Package Way | Weight |
| --- | --- | --- | --- | --- | --- | --- |
| 36V | 64Ah | Li-NCM | ≤ 80A /180A peak | 300*170*110 | Metal case, BMS | 16kg |
| 48V | 80Ah | Li-NCM | ≤ 100A /250A peak | 430*170*300 | Metal case, BMS | 30kg |
| 60V | 64Ah | Li-NCM | ≤ 80A /180A peak | 300*170*165 | Metal case, BMS | 27kg |
| 72V | 120Ah | Li-NCM | ≤ 150A /350A peak | 400*400*300 | Metal case, BMS | 68kg |
| 84V | 140Ah | Li-NCM | ≤ 170A /350A peak | 480*410*300 | Metal case, BMS | 95kg |
| 103V | 280Ah | Li-NCM | ≤ 340A /840A peak | 800*560*300 | Metal case, BMS | 205kg |
| 48V | 300Ah | LiFePO4 | ≤ 350A /900A peak | 600*640*310 | Metal case, BMS | 132kg |
| 48V | 512Ah | Li-NCM | ≤ 800A /1600A peak | 650*650*310 | Metal case, BMS | 171kg |
Battery pack can be customized as below,
Voltage range is from 12V to 600V,
Capacity range is from 30Ah to 1200Ah,
Dimension of battery packs can be changed accordingly.
Constant / Peak current will be adjusted to best suit to projects.
We make customized battery packs for customer as OEM service, please contact us for details with specified pack voltage, current, capacity and preferred battery space etc.
Metal case battery packs, the 48V20Ah type, picture as below for reference.